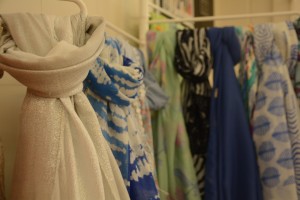 Photos and Story by Hallie Lauer
Knoch High School
All around the world, Pittsburgh is known as the Steel Curtain. While sports still remain on top in terms of interest, fashion has pulled aside the curtain and stepped into the spotlight.
As an up-and-coming fashion city, Pittsburgh has found itself on the radar of many stylists with its use of social media to promote its diverse style.
"Pittsburgh fashion is being portrayed on Instagram," said Sara Bauknecht, the style editor and dance writer for the Pittsburgh Post-Gazette. "We are seeing this crop of people who are really starting to do street style."
Street style, a recent development in chic, streamlined clothing for the average person, has been sweeping the fashion world, but also taking Pittsburgh by storm.
This urban, eclectic style gracing the streets of Pittsburgh, didn't just happen though.
"I think people dress to their personality in different ways and you can see that in different areas," said Sarah Sudar, current part-time stylist for Stitch Fix and former fashion writer for the Pittsburgh Post-Gazette.
Stitch Fix is an online fashion website that ships women five items from a stylist. The women then get to try on the clothes, keep what they want, and send back what they don't.
Pittsburgh's trends cover a large range from wardrobes based on European culture to outfits pulled straight from the '70s; those living in Pittsburgh find a way to make every style work for them.
The more fashion-forward members of the Pittsburgh community, such as boutique owners, filter through the popular trends from the fashion capitals of the world to decide what they think will work best for their clients.
"Pittsburghers, they might not want to wear the vibrant colors or the six-inch heels," Bauknecht said.
So, while Pittsburgh may be taking the styles from runways in Milan and Paris and tweaking them to fit their own, more conventional needs, it still manages to create an image all to itself.
"But Pittsburgh does tend to have this kind of very raw, urban edge to it," Bauknecht said.
Pittsburgh is a city of sports fanatics though, and that is shown in Kiya Tomlin's new line of "athleisure" wear. Tomlin, the wife of Steeler's head coach Mike Tomlin, said it just makes sense that she designs athletic wear for the working woman.
Her new spring/summer line "Uptown Sweats" has hit the city harder than a Steeler's linebacker. Her reviews are through the roof, and really what's not to love?
"Uptown Sweats" is designed around the idea of making comfortable, athletic wear into chic outfits for all occasions.
While Tomlin's price range for her clothing may not be in every consumer's s price range, the idea is clear: Pittsburgh has developed its own microcosm of designers and innovators in the fashion world.
Each tiny peace of the fashion puzzle that is Pittsburgh helps to make it a more diverse and recognized fashion city, and that wouldn't happen without those designers who continue to encourage individuality in fashion.
Bauknecht said, "Fashion is you; fashion is what you want it to be."