By Laki Masua
Seton-La Salle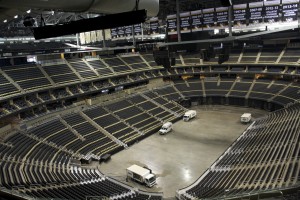 The CONSOL Energy Center is much more than the Penguins arena. What goes on behind the scenes is even more interesting.
Tom McMillan is the vice president of communications for the Pittsburgh Penguins. How everything comes together is crazy because they have to take some risks, said McMillan.
The CONSOL is used for hockey, basketball, arena football and concerts. The arena cost about $350 million. Mario Lemieux reached an agreement with the Isle of Capri Casinos to help fund the CONSOL. Construction began started in August 2008, and ended in 2010.
The Penguins pay $4 million a year to use the arena. The Penguins have a 30-year contract.
The arena can hold 19,758 people. Ice hockey has a capacity of 18,387. Basketball can hold 19,100 and football16, 280, and a concert has the maximum space, which is the full capacity of the arena. During concerts they have floor seats and hockey does not. Although the arena was built for the Penguins, the Penguins use it less than others.
"The arena was made to be nimble," McMillan said.
He said architects took ideas from other arenas and put it in their own. They have also learned from the mistakes that other arenas made.
McMillan said that when there is a concert after hockey that as soon as the game is over there are people taking apart the ice rink and putting in the stage for the concert. He said that it takes about three hours to get everything ready.
He said that when they have to put the ice in that people come in at 3 or 4 a.m. with hoses to water down and freeze the ice. McMillan said ice experts lay water over the ice to smooth it out by filling the cracks and bumps on the ice. While CONSOL was built as the home for the Penguins, the team only has 41 regular season dates out of 128 events of the year.