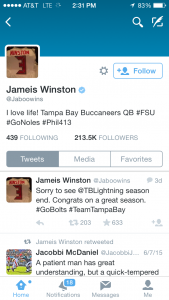 By Quinandre Leonard
Seton La-Salle
Social media is a great thing to use but it could be a bad thing too. Athletes could easily get into trouble on it if they say something they are not supposed to say. An athlete has to be careful of what he or she says because it can lead to consequences. Jameis Winston is a good example for this subject. He got in trouble for shoplifting crab legs and got suspended for a couple games. Then he got in trouble for making a joke about it and posting a picture of him and crab legs on Instagram and Twitter.
If an athlete were to post an inappropriate picture or tweet something that isn't smart, they would of course have to face consequences and have to deal with the press also. An athlete's social media mistake could result in suspension from games without pay.
Tom McMillan said "An athlete has to be smart about what he post or anything he tweets and keep it to himself." In today's media world it is quite different from 10 years ago.
Kids at very young ages have smart phones and use social media, so whatever an athlete posts impacts a kid whenever they see it.
Athletes are also expected to be cautious with social media because millions of adults and younger kids see everything they post. They especially have to be careful because whatever they post impacts children because they want to be just like their favorite athlete one day when they get older.
So it is very important for an athlete keep his cool and try to avoid posting anything that is not good to post. I myself look up to a lot of athletes. McMillan said "I expect athletes to be leaders for everyone who watches sports and for everyone who looks up to athletes."